Chiriqui Cloudforest Getaway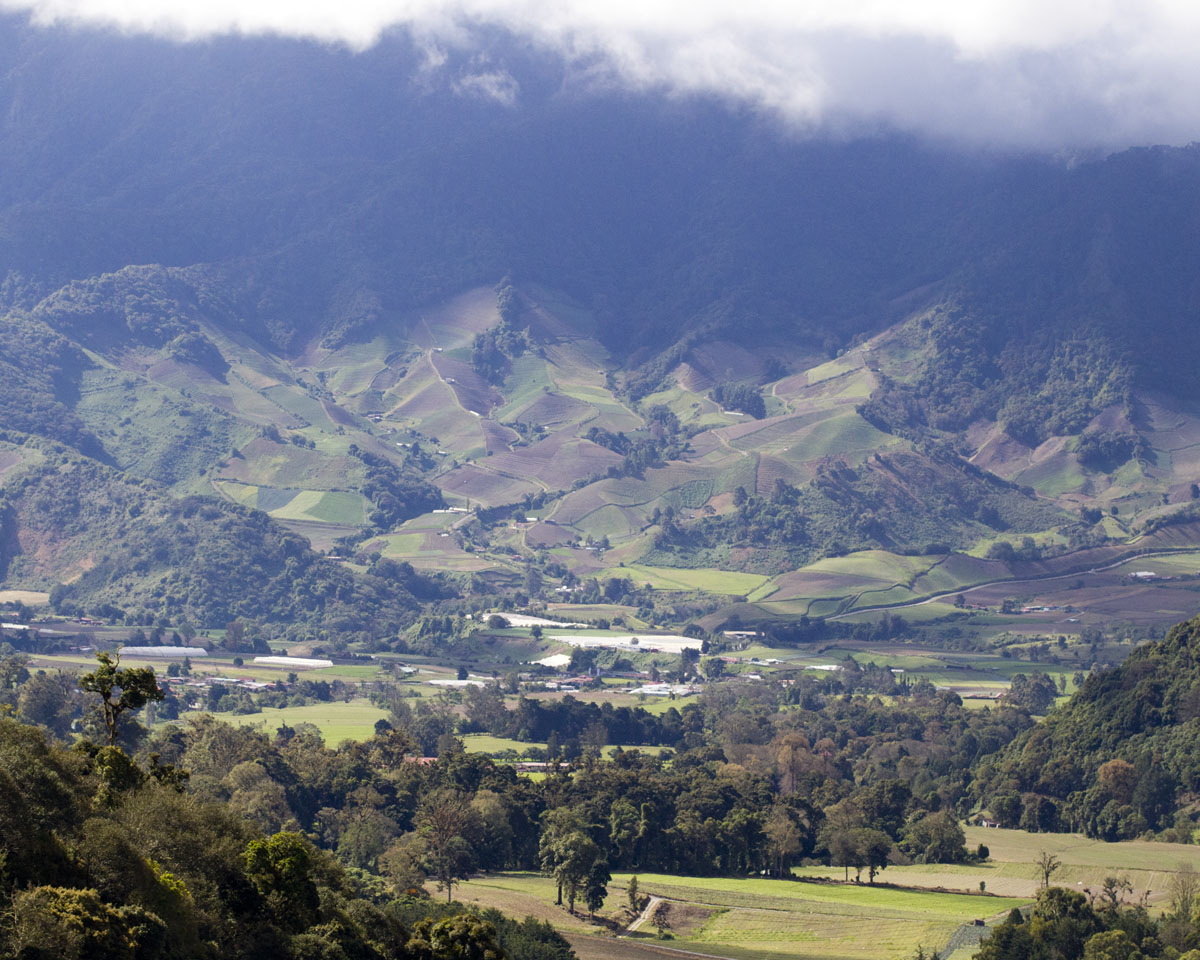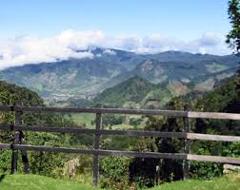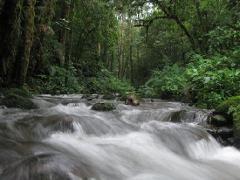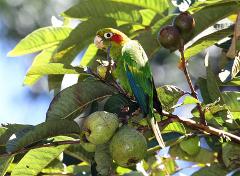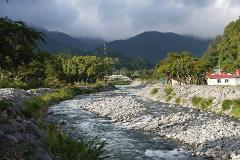 Duration: 4 Days (approx.)
Product code: chiriqui
Chiriqui Cloudforest Explorer 4 days / 3 nights

DAY 1 Panama City – Chiriqui Highlands

Early this morning you are picked up at your Panama City hotel and transferred to Panama City's Albrook domestic airport where you board the scheduled flight to David in the province of Chiriqui. Be transferred to the mountain town of Cerro Punta on the western side of Baru Volcano, where you will visit La Amistad International Park. Shared with neighboring Costa Rica and recognized in 1982 as a World Biosphere Reserve and UNESCO World Heritage Site, La Amistad is located at a point on the Central American natural land bridge where flora and fauna from North and South America reach here their maximum species mix. With great ranges in altitude, precipitation, soil and temperature, bio-diversity here is at its best. You spend the morning hiking and exploring La Amistad in the area of El Retoño in search
of the Resplendent Quetzal, Silvery-fronted Tapaculo, Andean Pygmy-Owl, Barred Becard, Black and Yellow Silky Flycatcher among many other western highland birds. After lunch you will visit Finca Dracula home to over 1500 orchid species.
Night at CASA GRANDE BAMBITO, Garden Suite (L)


DAY 2 Sitios Barriles OR Los Quetzales Trail Hike from Cerro Punta – Boquete
This morning you can choose between a very light or a rather challenging excursion:
Option 1) Late morning visit to the Sitio Barriles archeological site of the extinct Barril culture that once lived on the slopes of the dormant Baru Volcano. Here the site guide will interpret the writings on the stones (petroglyphs) and enlighten you on the history of this culture. You will have lunch at a local restaurant and then proceed to the eastern side of Baru Volcano to the quaint town of Boquete with its countryside dotted with flower, fruit and produce farms, coffee plantations and lush tropical cloud forests. Afternoon at leisure.
Option 2) From your hotel you will be transferred this morning to Cerro Punta from where you will start an approx. 5-6 hour hike (depending on your physical conditions) along Los Quetzales Trail, around the foothills of Baru Volcano, the
highest peak of the country at 3,475 meters above sea level. We will be hiking in the cloud forests of Baru Volcano National Park making several stops along the way to enjoy the views and to look for the elusive Resplendent Quetzal. Picnic lunch will be on the trail. You end near the town of Boquete where you are picked up and taken to your hotel in town. This afternoon feel free to stroll into town or relax.
Night at HOTEL PANAMONTE, Standard Room Fresal (BL)
DAY 3 Cloud Forest Waterfall Nature Walk - Coffee Tour in Boquete

La Amistad is a bi-national park that stretches from Costa Rica into Panama, a small portion of which extends into the Chiriqui province encompassing mostly cloud forests. Here, the land rises in excess of 1,500m and warm air ascends the mountains where it meets with cooler air and condenses into a persistent cloud cover. Cloud forests exhibit a unique ecosystem with an astonishing diversity of flora and fauna. Towering trees reach towards the sun to form a canopy that
creates a cool, shadowed, misty underworld on the forest floor. It is noisy with the sounds of numerous insects, birds, and frogs but it is difficult to see them because of the ferns, tree ferns and epiphytes that crowd the lower and middle strata of the forest. During the 4-5 kilometer nature walk you will reach up to 1,700m (approx. 200m elevation gain) where you can take a refreshing swim in the waterfall. Enjoy lunch at a local restaurant in Boquete and continue this afternoon for an interactive experience with coffee at Café Ruiz. The experts will explain all the process coffee beans go through. This is no ordinary coffee. Shade grown and scrutinized; Ruiz´ coffee is world renown. Late afternoon you will be dropped back to your hotel. Dinner on own in Boquete town or hotel.
Night at HOTEL PANAMONTE, Standard Room Fresal (BL)

DAY 4 Boquete – Panama City

You have most of the day to yourselves to visit Boquete or join optional tours (see further down below). Late afternoon you will be taken to David Airport for your flight back to Panama City. Drop off at city hotel. (B)
Trip Classification


Moderate hiking 2-6 hours per day with rolling, slippery hills

Lodge accommodations are comfortable
Price: $1,195 per person + 7% tax (double occupancy) – minimum 2 passengers
*Single supplement fee: US$240 per person plus 7% tax

*Upgrade to Garden Terrace at Panamonte: US$195 per person for 2 nights (DBL
occupancy)
*US$85 per person plus 7% tax surcharge applies during holiday season
(National Holidays in November, Christmas, New Years, Carnivals and
Easter weekend)

Included:



Lodging, meals as specified in the
itinerary
Transportation
within Panama
All airport/hotel transfers on scheduled
arrival and departure dates
Meals not
specified in the itinerary

Alcoholic beverages
Local guides´ services and expenses
Park, museum and related entrance fees
Gratuities and
extras in hotels
Optional tours on Day 4:




Cloud Forest Canopy Zipline Tour, 4-5 hours, US$100 per person plus 7% tax




Hot Springs Caldera, 2 hours, US$60 per person plus 7% tax




Horseback Riding, 3 hours, US$80 per person plus 7% tax





Horseback Riding (1 hour) with Hot Springs (2 hours), 3 hours, US$80 per
person plus 7% tax




Rappelling El Gunko, 3-4 hours, US$100 per person plus 7% tax




Chiriqui River Rafting, 5-6 hours, US$160 per person plus 7% tax




Night Hike to Volcan Baru, 10-12 hours, US$140 per person plus 7% tax
Disclaimer & Note



Prices and itineraries are correct at the time of printing, however they are
subject to change due to tidal/weather or local conditions,
availabilities or factors beyond our control.





Luggage weight restrictiosn: A maximum of 30 lbs. (14 kg) of checked luggage
and 10 lbs. (5 kg) of carry-on per person is allowed. Arrangements
can be made with your hotel or Ancon Expeditions.




The Canopy Zipline Tour in Boquete has the following maximum weight restrictions: 175
lbs (80 kg) for women and 250 lbs (113 kg) for men.
Recommended Equipment Checklist



Binoculars (preferably 7x35 or bigger, also available for rent at Ancon Expeditions of Panama)
Water bottle

Lightweight/quick dry cotton clothes


Windbreaker
Camera with extra batteries & film
Sandals, sneakers / hiking shoes
Flashlight with extra bulb & batteries
Bathing suit, Insect repellant, Sunscreen
Money in small denominations
Toiletries & personal medications