Buenos Aires Helicopter Tour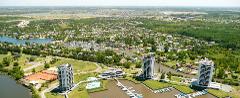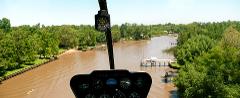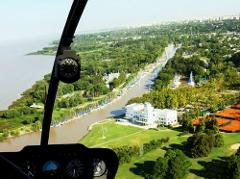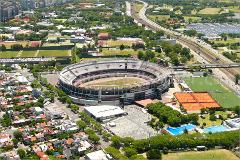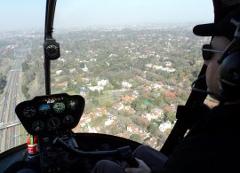 期間: 30 分 (約)
製品コード: BAheli
This is our most popular product and we carry a
Low Price Guarantee.
You will not find this nor similar products for a lower price anywhere in Argentina, on the internet, or in the world, or we will match it and give a further discount off the offer.
AFA's Buenos Aires Helicopter Tour can be enjoyed on any day or occasion, and covers
all of the major sites of greater Buenos Aires
including the main places for tourists, and absolutely the best parts of the world's most romantic city!
Each route includes:
Buenos Aires, Avenue Florida, the Waterfront, the Clocktower and old town, Ricoleta, the parks and promenades, and Palermo. The Bocas stadium where the Boca Juniors play is viewable from above, as are the government state buildings and the bay of the Parana River across from Uruguay. Fishing boats and stilt houses glisten in the sunlight against the waves below like lanterns and arcades, where the soul of Argentine culture and commerce beats. This is all of B.A. in a package, for your eyes to feast on, from the best viewpoint in Argentina!
From only $175 per person! *
With a
minimum of 1 passenger
for each flight, schedule your next adventure today! Flights are available for
all days of the week
during daylight hours.
Everyone is welcome to participate,
including children!
Fly with a certified, professional, safe, and licensed pilot who will ensure that you have an unforgettable experience during your sightseeing over some of the most iconic areas of Argentina. *All flights with AFA for Buenos Aires Aerial Tours leave from the domestic smaller airport and its private hangar, (BUE) in the middle of the city - NOT from the larger EZE International. We take off from the private terminal and main runway (Where all corporate aircraft launch from.) Contact us for directions or see our voucher and location map accompanying the confirmation of this tour.
*
plus taxes and fees.**Cancellation due to bad weather will warrant a full refund.

***
AFA Carries a Low Price Guarantee on this tour
Flights Cancellations and Course Changes:

The flight course and departure time could be changed due to weather condition or other inevitable reasons.
Please understand that your flight itself also can be cancelled for safety reasons.
Safety is the top priority for all AFA tours and staff, and we are working 24 hour to keep you safe.
Why Us?

Take an
unforgettable helicopter tour, the best in the country and in town
of the
most famous and beautiful cities in the world
, Buenos Aires, and get a birds eye view of iconic landmarks, stunning landscapes, and the bustling city below.
Rest assured at the helicopter operator's safety record and AFA's low price guarantee.
See everything in one package! - The flight includes the whole hit list of sites and landmarks, including San Fernando, Victoria, Punta Chica, San Isidro, La Lucila, Olivos, Vicente, López, Belgrano, Palermo, Recoleta, Port of Buenos Aires, Puerto Madero, La Boca, San Telmo, Plaza de Mayo, Retiro