Salonga National Park Expedition From the Congo River: Deep Rainforests of DRC (Including Kinshasa, Malebo/Stanley Pool Cruise to Kinkole, and Bonobos Tours)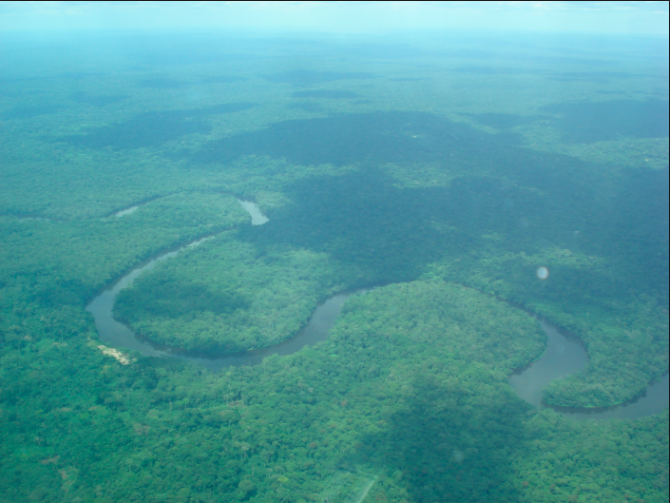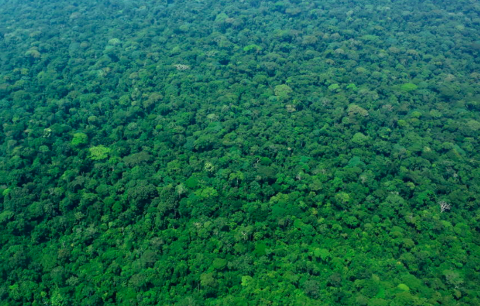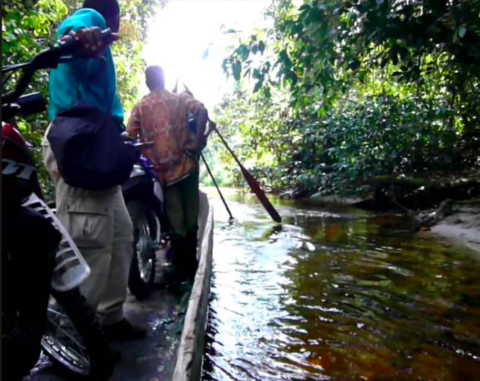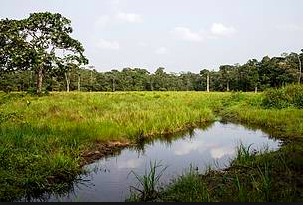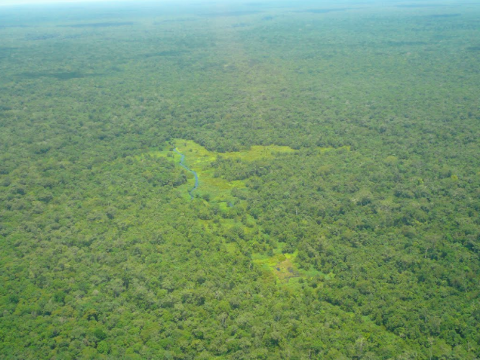 Duration: 25 Days (approx.)
Location: Kinshasa
Product code: salonga
SALONGA NATIONAL PARK DRC EXPEDITION
This is a serious frontier expedition into Africa's largest tropical jungle reserve and one of its most remote reaches of rainforest. It does not take you into the dangerous areas of Kasai and rebel-held territories, and approaches from the mostly de-populated north from the equator and the Congo River.
This is not a safari. It is an expedition. It is to be taken very soberly and seriously.
Here are the first things that the adventurer should know about Salonga Park:
One guard stays at the shore with the captain to keep the boat, fuel, and engines. Animals circulate every night in search of food, and it is not safe for the captain to stay there alone.
The camp is always set up hundreds of meters from the river. Two other guards secure the crew for a ride in the forest.
The elephant's swimming pool (yep!) is ten kilometers from the camp site, which is about three hours on foot, round trip about twenty kilometers. Good walking shoes are needed as the forest has many dangerous little animals and insects which can harm.
The client needs a professional camera in order to take good pictures of animals, as they are very quick in the jungle, the trees are very high, and there is no good light from the sun as the forest has many and high trees. Good binoculars are also needed as some animals are high up in the trees, there is no way possible to see them clearly on the top.
Salonga is 750 km from Mbandaka, created in 1970, and still after all this time is the most remote park in Africa and requires 5 or 6 days of sailing upstream if the weather is good, and 3 days downstream. The whole park is 3600 square km divided into two sectors north and south. We go usually to Monkoto corridor which is in the district of Tshuapa Equatorial Province.
It has two river streams Loile and Luilaka that flow into the Ruki river then into Congo River in Mbandaka.
There are many villages along the river but only names of big villages will be mentioned here apart from those villages there are many fishing camps. The big villages are : Ingende ; Boteka ; Longa ; Lotumbe ; Imbonga ; Waka, Watshikengo ; Bokuma ; Nkasa ; Ikende ; Kombo ;Bempumba ; Ikuwa ; Losako,
Monkoto Ville is the last big village where we get all the papers that allow us to access Salonga Post downstream about an hour to get there by motorboat.
Normally, when traveling we camp four times on the way, and we only choose small villages since we avoid crowds and other immigration services. What is important is not where we can camp, but how many times we can do that while traveling, it is dangerous to travel at night because of sand and branches of trees under water
If you do not have a flexible schedule and attitude, this trip is not for you. You need to budget a minimum of 3 weeks and be in good physical and mental shape to undertake this, be ready to get very dirty and to go with river water showers if any at all. After Mbandaka you will not stay in any hotels and it will be all rough and real wilderness.
ITINERARY
Day 1: Arrival in Kinshasa and Transfer to the Leon Hotel for Overnight (Upgrades to Kempinski or the new Hilton Doubletree, if it opens for 2018, on demand)
Day 2: Kin City Tour and Bonobos Sanctuary Eco-Excursion
Day 3: Congo River Cruise to Kinkole Village on the Stanley Pool (Malebo Pool), the widest swell of the Congo River.
Day 4: Fly to Mbandaka and Overnight at Hotel Nina and beginning of the expedition....
15+ days in the Rainforest and Rivers into and in Salonga.
There are a few rivers to get there diverting off the main River Congo, and its a long journey. Tents are supplied. You should bring your own sleeping bag and pad as this makes a big difference in our experience in the quality of sleep and you should try this bag and pad out several times at home for comfort before you select it. Some additional provisions and further supplies will be purchased in Mbandaka. This is a tough journey into the forest, so you should be prepared for it. Medical assistance will be days away so you should be well stocked on first aid equipment too that you think you may need and medicines. We will be doing the same.
The main village you will head for is Monkoto. This is about 6 days from Mbandaka taking the rivers Ruki, Momboyo, and Luilaka. The Luilaka river brings you to the park entrance. We will use tarpaulins as makeshift shelters on the pirogue. In case of emergency evacuation, we can return to Mbandaka in 2 days by traveling day and night.
At Salonga you will explore the area like an expedition, not a safari. There is no "game drives" or anything remotely like that. You may meet some researchers who can help guide, but in general you will just explore and heed your guide's advice.
Day 20 <> 24: Return to Mbandaka and flight back to Kinshasa. Departure and City Checkin For Flight out of Congo.
END OF SERVICES

FOR THIS TRIP YOU WILL NEED RESOLUTE CHARACTER, A STRONG MIND, STRONG PATIENCE, A HEALTHY AND FIT BODY, AND KEEN PREPARATION.
IN SYNC WITH US, YOU WILL BE PREPARED MENTALLY AND PHYSICALLY, AND WITH TEAMWORK SAFETY AND LISTENING CLOSELY TO THE GUIDE AND AUTHORITY, YOU WILL HAVE FUN AND BY FAR YOUR GREATEST AFRICAN ADVENTURE!!
Our overland (in this case overwater) tours include all transport, permits, entrance fees, taxes, 4x4 with a/c, and accommodation in safari-style lodges, villages, and tourist hotels (where applicable) in civilization.
For the wilderness element of this trip, tents and kit are used.
Alcoholic drinks are extra. Food is included for the trek and in the jungle, but not in the cities. (budget $480+)
Congo Travel and Tours will arrange your visa facilitation upon purchase of a tour, and you must apply with our invitation letter at your nearest possible embassy.
Internal Flights and Kinshasa Hotels (and one night of Mbandaka Hotels) are included
Provisions, Porters, Staffing, Safety, Cooks, Guides, and Kit .