DRC Pygmy Villages, Congo River, and Deep Jungles Tour (With Wild Bonobos Optional Extension)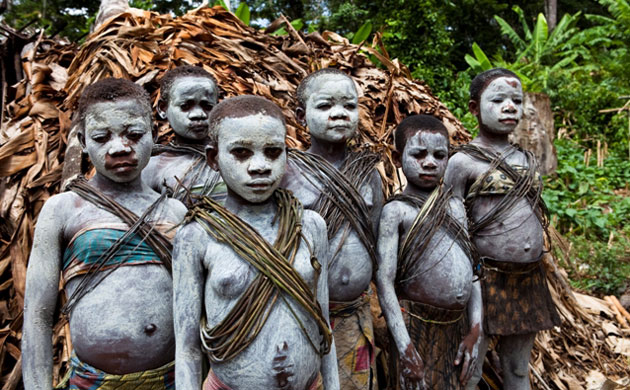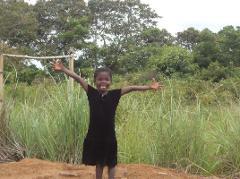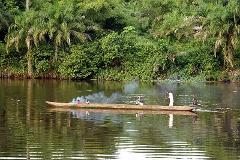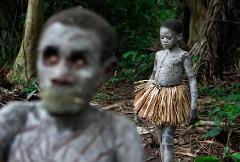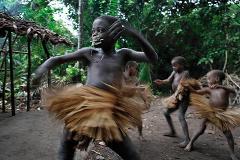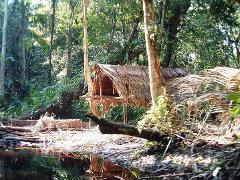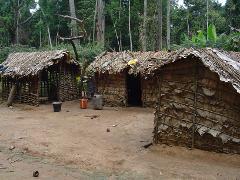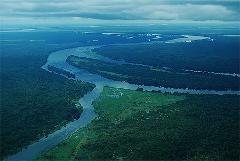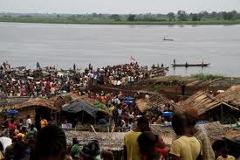 Duration: 18 Days (approx.)
Product code: drc-overland-2-en
AFTER REGULAR REQUESTS FOR THE PAST FEW YEARS, CTT CAN SET UP RESEARCH STAYS AND APARTMENTS, OR VILLAGE/HOMESTAYS, FOR MUCH LONGER (MULTIPLE MONTH PACKAGES) FOR CHEAP, IF YOU ARE HERE TO CONDUCT RESEARCH IN THE JUNGLE AND EQUATORIAL RIVER REGIONS.
IMPORTANT NOTICES:
NOTE: THIS 8 DAY PYGMY TOUR AND SOME OF THE SITES ON IT REQUIRE REAL FLEXIBILITY FOR WEATHER, ROAD, RIVER, AND FLIGHT DELAYS ENDEMIC TO THE REMOTE INTERIOR FOR 2017 AND 2018. IF THE RIVER IS YOUR FOCUS, WE RECOMMEND YOU SEE THE CONGO RIVER BEST OF ("DRCRUISING") FOR A SIMILAR BUT BETTER AND MORE VALUE-PACKED EXPERIENCE THAT FOCUSES ON THE RIVER AND LOCAL LIFE..
IF YOU'D LIKE TO FOCUS ON TOURS AND CULTURAL IMMERSION WITH PYGMIES IN CONGO, WE CAN ARRANGE VILLAGE STAYS WITH THE CULTURES IN THIS AREA OR IN KISANGANI OR AROUND THE SAME PRICE AS THIS TOUR, FOR 8 DAYS. PLEASE CONTACT US IF THIS IS WITHIN YOUR BUDGET AND REPRESENTS YOUR GOALS.
IF YOU WOULD LIKE TO SEE BONOBOS IN THE WILD, THERE IS A NICE POSSIBLE EXTENSION TO THIS TOUR THAT VISITS ANOTHER REGION OF FOREST IN BASANKUSU FOLLOWING THE INITIAL EXPEDITION HERE. (PLEASE SEE THE BOTTOM OF THE PROGRAM FOR THIS OPTION.)
THERE ARE FEW OR NO REAL MODERN SHOWERS AVAILABLE DURING THE ENTIRETY OF THIS TOUR AFTER YOU LEAVE THE CAPITAL
-------------------------
Pygmy 8 Day Tour from Kinshasa (Can stretch to 10 or 12 depending on weather/flights/conditions)
Explore and view Kinshasa, ride the infamous river into the heart of darkness. Visit villages, tribes, and forests and view animals and hundreds of unique and some undiscovered species of river fish and birds. Enjoy some of the best music, culture, and scenery of Africa and one of its most legendary journeys.
We adapted this tour out of popular demand and inquiries from our customers online. This trip has an adventurous character and takes place in very back-land Jungles.
Itinerary
Day 1: Arrival & Welcome in Kinshasa
Welcome to Kinshasa, our representative will greet you at the airport, and courteously assist you to your hotel. After you check-in enjoy a fantastic nightlife tour, or evening to rest. (D)

Day 2: Flight to Mbandaka
Fly to Mbandaka city on the Congo River, and get a glimpse at local river life, largely unchanged for countless thousands of years. On arrival take a 4x4 from Mbandaka to Ilema (29 km), where pygmies and the chief of the village give us a warm welcome with traditional dances. We stay here for viewing of nearby natural and cultural attractions, and settle in for an overnight deep in the African rainforest. Understand that regular tourists rarely visit these villages. You are some of the only people they see visit from the outside world. Make a good impression. (B, L, D)

Day 3: Trip to Samba, Buya, and Other Pygmy Villages
After breakfast we leave by 8:00am for a thrilling trip to Samba. On the Road we stop in Buya, where we visit a small village with pygmies. Here we have the opportunity to view their traditional clothes and wooden sculptures. Overnight stay in Samba, with local pygmies and the chief of the village. (B, L, D)

Day 4: Congo River & Nkake Forest Expedition
After breakfast we take a canoe to Nkake (5 hours paddling) and take the time to admire the vegetation in the old and hugely biodiverse tropical jungle. Enjoy fresh fruit, vegetables, and other specialties to taste. (B, L, D)
Day 5: Bikoro Paddling in Ntumba Lake
After breakfast we leave for Bikoro (2 hours paddling by pirogue on the serene Congo River tributary) on Lake Ntumba. We visit forest pygmies here of another tribe and family. (B, L, D)
Day 6: Virgin Jungle Trekking
After breakfast at Bikoro we head into the virgin Jungle to I.R.E.S in a 4x4 jeep (30 km). IRES is an animal protection area that has many attractions including a center for research and climatology, and an outpost for the study of the ecology of tropical fauna and flora. Enjoy a guided excursion in the park where you can find ancient and virgin vegetation, several unique animals and birds, and many more that are not yet documented by science! Finish the evening with a traditional Congolese dinner. (B, L, D)
Day 7: Travel Back to Mbandaka
Breakfast at 7h00, followed by a 4x4 trip to Mbandaka. We stay the night in Mbandaka and enjoy local restaurant food and cold beer. (B, L, D)
Day 8: Final Day - Flight Back to Kinshasa
Fly back to Kinshasa, assistance and boarding formalities (B)
Extended Description
All transfers are made by 4x4 and pirogue (traditional canoe – comfortable and motorized).
All meals are included; breakfast consists of portable and mostly-non-perishable supplies like bread, rolls, packaged gourmet meats, and canned goods; generous provisions of coffee, tea, or hot chocolate, and all the tropical fruits the jungle can muster. Lunch consists mainly of fresh fruit and local specialties (goat meat, and/or chicken a la moambe). For dinner when the guides employ their cooking skills enjoy main dishes consisting of meat, poultry, or fish, pasta, vegetables, rice, potatoes, and fufu (a local side dish made of the manioc plant).
Accommodation consists of encampments in the interior and hotels in the city centers. Tents are spacious and comfortable, but electricity and internet are largely unavailable in this region. Toilet facilities are non-existent in this part of the country, so we bring and deploy our own sanitation station to dispose of waste responsibly and keep everyone and everything clean. Bring an adventurous attitude on this trip, it is essential and will reward you immeasurably.

Our overland tours include all transport, food, permits, entrance fees, taxes, 4x4 with a/c, and accommodation in safari-style lodges, villages, and tourist hotels (where applicable). Alcoholic drinks are extra. Congo Travel and Tours will arrange your visa facilitation upon purchase of a tour, and you must apply with our invitation letter at your nearest possible embassy.
------------
MAPS AND NOTES: LOCAL ZONING AND TRACKS:
From Mbandaka to Bikoro, you go to Ilema after that there are villages: Buya 1, Buya 2, and Buya 3, where only in Buya 3 can you see pygmies.
When you go to Samba village, the jeep will stop there and head back to Bikoro. We will take the pirogue downstream to thé river until we reach the lake through a village called Ikoko, where there are also some pygmies. After that the jeep will take us back.
-----------
EXTENSION OPTION: WILD BONOBOS AND CONGO RIVER 18 DAY EDITION
Itinerary: Equatorial Deep Forest Pygmies/ Bonobos Expedition.
- Day 1: Pick up at N'Djili Airport, Kinshasa. Transfer to Leon. Briefing. Overnight in Leon.

- Day 2: Pick up from Leon for City Tour of Kinshasa including National Museum and the pioneers cemetery in the grounds of the museum which dates back to the 1800's. Afterwards have dinner in Cher Fleur which has the best Congolese cuisine in Kinshasa.
Overnight in Leon Hotel.

- Day 3: Pick up from Hotel for flight to Mbandaka. On arrival you will be assisted at the airport and transferred to Hotel Nina. Once settled in the guides will assist you in buying supplies for the forest trek. Evening meal and overnight in hotel.

- Day 4 and on: pick up from hotel after breakfast to be transported in a 4x4 from Mbandaka deep into the rainforest, where pygmies and the chief of the village will give us a warm welcome with traditional dances as we move in further.
We stay and explore here for viewing natural and cultural attractions of Congo's deep heart, and settle in for the nights far in the African rainforest. Understand that regular tourists rarely visit these villages. You will be one of the few outsiders to overnight here!

Meal(s) Include: Breakfast, Lunch & Dinner for the entirety of time in forest (unless extended.)

- Day 5, 6, 7, 8 : Forest Time! Staying and Exploring various equatorial pygmy villages and groups (may over-extend longer - roads are terrible or, don't exist out here) in the deep Congolese rainforest. You are very very far from home or anybody at this point. You may attract a whole lot of attention and so just follow the ques of your guides.
note you can also extend time in the forest here at this point if you'd like for $225 a day on your card for the guide fees, plus you must pay for the food and accommodation and transport of the local guides for extra days you choose to stay.

- Day 9: Breakfast at 7h00 way early, followed by a long 4x4 trip to Mbandaka. (If Optional Bonobos Extension: Stock up on supplies for the next exciting part of the adventure to view the Bonobos in the wild and/or at the point of their release into the wild if they are nearby timing-wise.) We stay the night in Mbandaka and enjoy local restaurant food and cold beer.
- Day 10: Congo River time! pick up from Hotel after breakfast to begin the river journey to Basankusu by motorised pyrogue. Overnight in hotel or tent if preferred.
(Note: Nina is THE best hotel in town but sometimes the shower does not work. -This would be at your expense for you and the guides but rooms are very cheap here)
>>>>>>>>>>>>>BONOBOS (This is a direction only, not an itinerary that should be specifically counted on as things move according to tons of obstacles, but this is a working action plan of where you will go and what you will do!) >>>>>>>>>>>>>>>>


- Day 11: Basankusu to Lingunda. I day trip by motorised pyrogue. ( There will be amazing views of the forest during the river journeys)Overnight in tent.

- Day 12: Lingundu to Iyema (2 hours by river). We arrive at Bosolomua and hike for tens of km into the forest where the Bonobos can be viewed, which is very early morning. Overnight camping in reserve.

- Day 13: after taking breakfast we head back to the river to begin return journey to Lingundu. Overnight in tent.

- Day 14: after breakfast we begin journey back to Basankusu. Overnight in hotel or tent.

- Day 15: after breakfast we begin river journey back to Mbandaka. (All meals are prepared by cook during the expedition). Overnight in Nina hotel.
- Day 16: free day in Mbandaka to chill out at the hotel and stroll around the town and maybe buy some souvenirs.

- Day 17: after breakfast transfer to airport for return flight to Kinshasa. Transfer to Leon Hotel. Overnight in hotel.

- Day 18: option of doing more local tours in Kin. Last Day of Tour and dropoff at chosen hotel or airport
END OF SERVICES
***Extra days in the interior if chosen are not very expensive, surcharged $225 per day plus 5.5% to your card for the guide fees, plus you must pay for the food and accommodation and transport of the local guides for extra days you choose to stay.

Note: It isn't guaranteed to see the wild bonobos in fact since, well, they don't work for anybody, but almost everybody sees them so far. Also, the boat motors often break or hit floating detritus which cause delays and due to lack of regular boat mechanics in the middle of nowhere, this can throw stuff for a loop too.
If you are doing the pygmies only, neither of these things are a large concern, but the entire trip is really a great adventure. Up to you!
Remember that once you choose to go, you are locked in without the ability to change, and even given the very common and expected delays and mishaps that happen out in the middle of the bush, and the changes, waiting, and delays that may happen, there are absolutely no refunds under any circumstances and the money will be sent to the ground and unrecoverable even in the event of weather or program delays etc. It will at times and in general be a very uncomfortable and expensive trip that is, we totally upfront confirm and always have, not even 1% the value for money as the rest of Africa tourism...in other words, this is serious, an expedition, and this is no fun-filled safari....and this is a final reminder to read the briefing room and terms and conditions and to prepare yourself soberly, seriously, and mentally for these rules and realities.
Of course, that is the entire spirit of the place!...and with a sense of needed patience and flexibility, you will have a massively great adventure definitely unrivaled in Africa for rawness and frontier!