Tiger Fishing – The Monster of the Congo River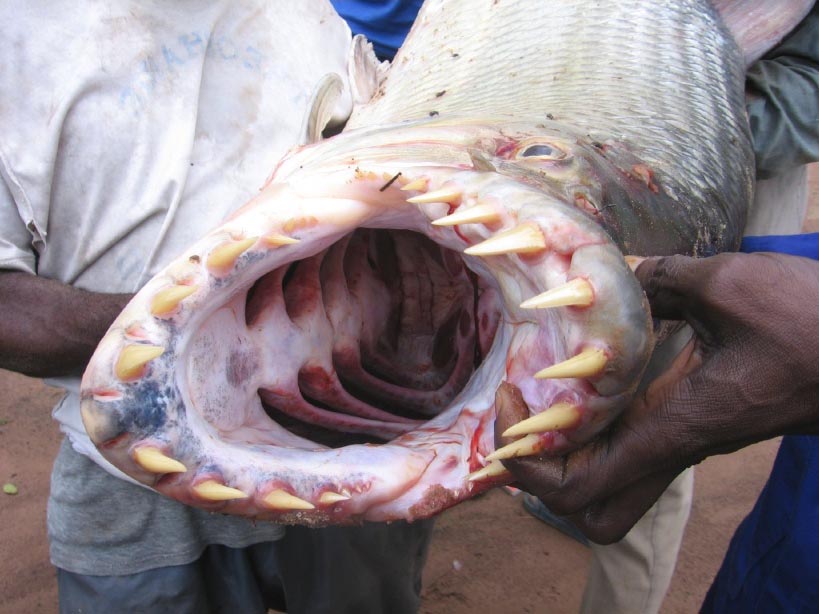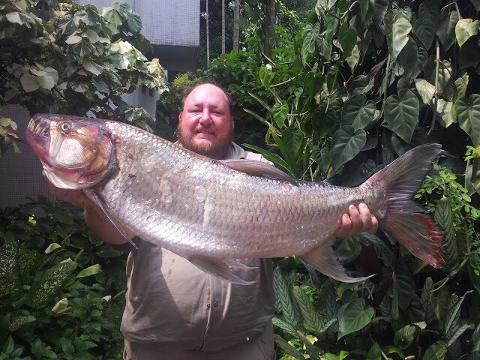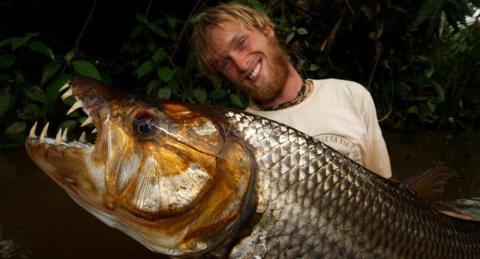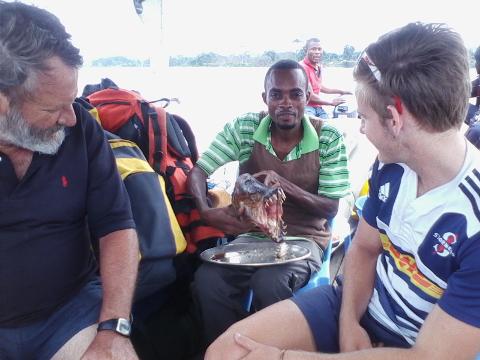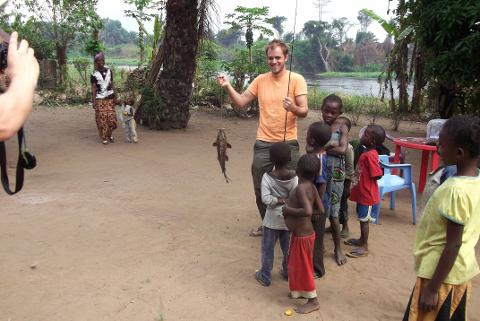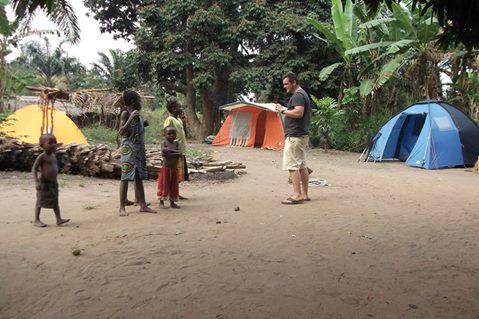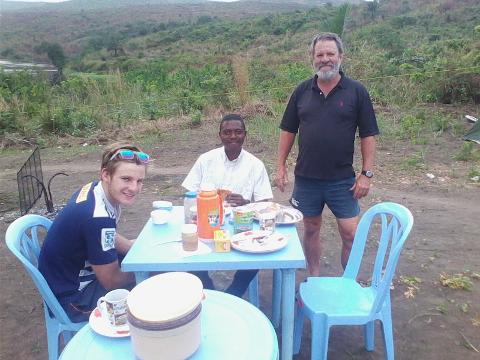 Duration: 7 Days (approx.)
Product code: drc-overland-6-en
SEE 2017's RECOMMENDED TIGER TRACKING PROGRAM FOR GRABBING A GOLIATH ON THE PDF ABOVE.
----------BEWARE OF FAKE COPYCAT TOUR OPERATORS WHO AREN'T IN CONGO, AND HAVE NEVER SEEN MUCH LESS CAUGHT AND EATEN A TIGER FISH, WHO RE-SELL VERSIONS OF THESE TOURS. THERE ARE AT LEAST 7 IDENTIFIED FAKES. PLEASE ASK US. IF YOU'D LIKE TO BRING A FISHING EXPERT OF FILM CREW, YOU ARE ALSO WELCOME TO USE OUR CREW AS SUPPORT AND LOGISTICS. WE KNOW HOW TO CATCH THESE. ----------
Have your next fishing trip in the Congo. The Mbenga, Crocodile, and Goliath Tiger Fish can be found especially in the DR Congo, terrorizing other local fish populations, and even eating crocodiles and human children. Anything short of a Great White Shark should not make an attempt at swimming alongside a Tiger Fish. The "Demon Tooth, Monster of the Congo River" is the ultimate sport fish, easily going past 100kg in consistently reported encounters by local fishermen, and with no trouble topping the strongest angler's pull force. The treacherous black river, "Mai Ndombe," enters the majestic Congo River, and in it you will discover five distinct and ancient dinosauric species of Tiger fish found in Africa's mightiest rivers. Here is your chance to reel in the meanest fish on the planet.
-------------------------------
Angling Adventure in Africa's Last Frontier!
CTT offers this fishing trip with camping on the Congo River. Experience the Goliath Tiger Fish known as the Mbenga, in places where great fishermen realize their dreams. Our English-speaking guides for fishing are primarily large traditional fishermen of large riverfish. They will provide you a unique experience fishing on the River Congo, professionally and profoundly.

Goliath Tiger fish belong to the family "Characidae" There are five distinct species, two of them that are most interesting for fishermen occurring in the Democratic Republic of Congo.

Goliath remain carnivorous fish that eat other fish - hence it is probably the emperor fish of the river, unless something bigger is discovered later...

With incredible aggression by its use of super strength, with its impressive and flexible jaws, with teeth that cut so easily through prey like a sword; his speed lets him close on his target of distant vision in the water ...
The largest catch by one of our customers was 40 kg and the took him 15 minutes of fighting before the fish was in the boat.

We advise you to be well prepared in terms of equipping for this trip. It is a Battle...
A word about the ecology and sustainability of the river tributaries and tracking grounds of these terrific tigers:
There are countless amazing and undiscovered species, but what about the ecological integrity? And what of these shocking monstrous tiger fish? Are they actually real?

Yes. The status of the Congo River ecosystem has been described by most biologists on the ground and in our care as being in excellent health. So healthy according to Peace Corps veterans in Congo that the foundation of river villages like Mossaka on the Alima river's economy is freshwater fishing, and fish dances are the entertainment du jour. The state of the ecosystem has been compared to what the state of salmon fishing would have been like for the Native American Indians in the Pacific Northwest of the USA prior to colonization by Europeans. It is as if the methods of fish harvesting employed by the people of Congo are just not sufficient to put a dent in any real way in the fish populations of the Congo river.
That said, the Goliath Tigerfish is targeted by Congolese as both a pest and for animist religious reasons and this would obviously lead to more "fishing pressure" than there would otherwise be. Still, there are hundreds and hundreds of extremely sparsely populated stretches of the Congo river. Similarly, the Goliath Tigerfish will also inhabit large tributaries of the Congo like the Alima River which flows through Boundji and it is quite possible the current human interface with these ecosystems outside of Brazzaville or Kinshasa could never considerably impact the fish populations.
In the Pacific Northwest the main reason why the salmon populations have dwindled so significantly is due to the damning of all, literally all, of the major rivers in the region. And the Congo River hasn't been impacted to any similar degree.
From an ethical point of view, if one is anti-fishing because they do not like the idea of a fish having a metal spike jammed through their mouth and then fought to exhaustion before being released, rather than the belief being predicated on conservation issues, then it is best to pass on fishing excursions in Congo or anywhere in the world. Many opinions would be that as long as the fish are returned alive and in good condition to the river, then the overall benefit (in terms of the employment to the fishing guide and enjoyment of the fisherman, and the impact to the local economy from the money spent by the fisherman to get to where they can target this species,) justifies the fish being in pain. "Don't forget," this view compels, "it's not easy being a wild animal at the best of times, and a bit of metal hook in the mouth is not going to significantly impact the fish's life." This is not the view of CTT, but this is often the perspective of fishing enthusiasts.
Another reason that the Goliath Tigerfish may be perceived to be threatened/endangered is that it is an elusive fish by nature. In reality, it would be nearly impossible to determine the state of their population without electro-fishing a section of the Congo river and counting what floats to the surface. And even then, you would have known an idea of how that number would compare to pre-human and pre-colonialist populations. So, therefore, endangered? - Probably not.
The road to "Black Lake" (Mai Ndombe) can be done from Kinshasa via mediocre muddy roads in 1-2 days, whereas the village itself has several relatives of CTT crew and affords host ground space for large tents, cooked food for our guests, and added security in the dark deep jungle. From here the massive, amoeba-like lake and its fingers and branches span for tens of kilometers in all directions and beds and grounds for the biggest tigerfish.
-------------------------------
Confirmed and Standard 1 Week Tiger Tracking program
Includes: boat with fuel, crew and 2 outboards for 5 days on the river.
Airport transfer to Hotel
Car hire for 1 day to shop for food supplies, and anything else the clients may need to buy.
Transfer to Kinkole fishing village
Cook for 5 days
Gifts for the chief of Mai Ndombe (expected as is the custom!)
Live bait each day
Camping fees in Mai Ndombe village
Immigration fees at Kinkole and Mai Ndombe
Return transfer to hotel
Transfer to the airport for flight home
Assistance/ lounge
Guide/ interpreter for 5 days on the river.
Kinshasa City Tour and Cultural Historical Tours By Car, and Nightlife Option
Kinshasa Bonobo Eco Excursion to Bonobo Sanctuary
Excludes: hotel, airport taxes ($55 per person time of writing you pay when you leave DRC, out of our control), meals, food supplies for fishing expedition (bring canned stuff and snacks from home = solved!)
CTT arranges a hotel in Kinkole as we will take the boat from there and its near the airport, for the front end of the tour. Unless you prefer to stay in the city centre. The hotels in Kinkole are not fancy, not luxurious but are clean and air conditioned. There would not be breakfast at these hotels either but we can look into arranging this at our guide's home, as he lives in Kinkole
-------------------------------
Indicative Program - 14 Days Straight Tiger Tracking


Day 1: Arrival in Kinshasa, assistance and reception at the airport by the team followed by transfer to your hotel. Briefing on the stay by the guide and free evening. Hotel night (night out option from the center of Kinshasa (restaurant, bar, club, the city it yours! ...)

Day 2: Embarkation for Mai-Ndombe port Bac Ngafura Maluku (Maluku is a town in Kinshasa located 80 km from downtown) night at the village-Mai Ndombe or we'll pause the camp.

This part of the circuit allows you to discover the river, its traffic and its inhabitants with a particularly awesome approach. During the navigation to reach the camp you will have the opportunity to interact with a number of traditional fishermen on the technique of fishing.
Arrival at our base village-Mai Ndombe at 3:00 p.m.; Installation and testing of equipment followed by a courtesy visit to the village chief. Overnight in tents. Free trade and exchange of stories and pictures and beers with our fishing guides.

Days 3-12: Fishing

Note: during the fishing trip, our camping can be moved from one village to another depending on the performance of the fishery.

Day 13:
7h30: After breakfast departure for the fishing camp and return around 12:45 pm.
After lunch, embarkation and return to Kinshasa to Maluku

Arrival 16h00 return vehicle and transfer downtown. Night hotel and free evening.
Day 14:

Check in and Tour of the city of Kinshasa. (Visit of Bonobos, the Mausoleum of late President Kabila, the Symphony of Arts and market of thieves. End afternoon and transfer to the airport.


Additional Information - What else is part of this trip/included?

-Staff fishermen and 1 fisherman / boat guide
-Nights In individual (single) tent
-Breakfast at the camp and lunch provided (depending on the distance you are going fishing).
-Small fish hanging from hooks for fishing (Left under the control and inventory of the customer - we provide)
-A freezer and generator available at the camp
-Cold drinks available at the camp ($ 1.50 for a beer 72 cl - Now beat that bargain!)
-A Stove and camp (security) at your service to camp

Also Included in the price:

Large groups? Then we use up to 2 fishing boats like fast canoe and 1 captain / boat
1 wooden boat for logistics mobility occasionally
Fuel for the entire period due to 50 litres / day per fishing boat
Food and water during the period except in Kinshasa
Camping (tent, services and personnel) and hotel in Kinshasa
All transfers mentioned in the program
Invitation costs for visa facilitation
-------------------------------
Note: We can run Tiger Fishing Expeditions that last up to 21 days. We recommend at least a week to be able to catch a tiger.
Note: You must prove travel insurance in order to participate in these river trips.
BE VERY WARY OF ANY TOUR COMPANY WHO RESELLS US OR WHO PROMISES TO HELP YOU CATCH TIGER FISH, REGARDLESS OF HIGH "EXPERTISE," HIGH "EXPERIENCE," AND HIGH PRICE....
....NONE MAY GUARANTEE TO GET YOU A TIGER!!!